Yvonne Hollenbeck performs her original poetry throughout the United States, captivating audiences in her wake. She is one of the most published cowgirl poets in the West and is not only a popular banquet and civic entertainer, but also co-writes songs with many western entertainers. Yvonne also pens a weekly column in the "Farmer-Rancher Exchange" and writes articles about life in rural America in various publications throughout the West.
A three-generations-old family ranch is home to Yvonne and her husband, Glen. Together they raise angus beef cattle and quarter horses. More specifically, they live 30 miles from Winner, South Dakota, and 50 miles from Valentine, Nebraska, the closest towns with a post office, fire department and grocery store.
South Dakota Ranch Wife
Yvonne's poetry reflects everyday experiences that arise while sharing the range with Glen and their neighbors. However, a fleeting moment or simple event may also stir her pen to action. Mostly humorous in nature, her poems take a turn toward the serious side, especially the stories of her mother's and grandmothers' lives. From homesteading to the present, Yvonne often writes about women on the ranches of the Great Plains.
"Patchwork of the Prairie"
In addition to her presentations of cowboy poetry, Yvonne's program entitled "Patchwork of the Prairie" is one of the finest presentations in the heartland. Yvonne shows her collection of family quilts, spanning 140 years, including her own prize-winning creations. Poetry about quilts and quilters is presented throughout this awesome trunk show, which is enjoyed by men and women alike. Throughout the presentation, you will see power-point photos of the quilt makers as well as their homes (some of sod).
Hollenbeck's "Patchwork of the Prairie" is also included on the roster of Humanities programs for the States of Nebraska and South Dakota.
A collaboration between noted cowgirl singer, Jean Prescott, and Yvonne Hollenbeck's "Patchwork of the Prairie Program", where Jean weaves songs about prairie life into the generations of quilts being presented, resulting in an outstanding presentation for audiences of all ages. "Tying One On With Jean and Yvonne" can be included or used as a separate program where, entering the feed sack era, audience participation is included in a style show of feed sack aprons as well as a sing-along that highlights the program...a great way to share some history of the depression years experienced by our elders.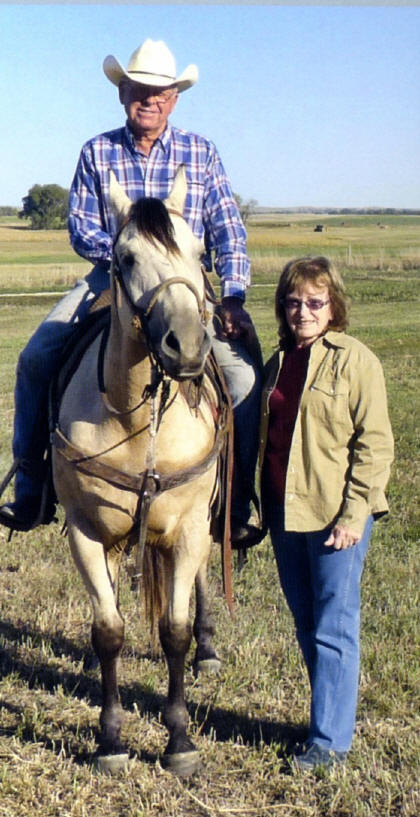 Special thanks to my husband, Glen, for being a good sport when he becomes the subject to my humor!